Bookings are now open for the October Holidays and can be made by the following means:
Printed: Print the Holiday Registration Form and return to info@kohimaramatennis.co.nz or to the club office or BOOK ONLINE by selecting our "book something page"
Please note payment must be made prior to the start of the programme in order to secure your place.
---
RICK HEALEY 021 286 1598 rickhealey7gmail.com
Rick and his team of coaches run holiday programmes throughout the main school holiday weeks.
Classes are designed to be fun, focussing on learning technique and footwork.
Groups are split into age/ability levels with younger children using Hot Shots equipment consisting of small nets and rackets with softer balls. Groups are split over 8 courts with a coach, allowing for plenty of practice and coaching time. The week will culminate with prizegiving on the Friday which parents are invited to attend.
---
Participants should bring with them each day morning tea, water bottle, sunblock and warm clothing for the cooler months. The programme will run RAIN OR SHINE.
---
Rackets can be borrowed for the programme and the Proshop carries a range of childrens rackets starting at $45.
Bookings can be made online for those booking in advance for full courses, should you wish to just attend for part of the week or attend a casual day please contact Rick directly to make arrangments.
Payment for whole weeks can be made on line otherwise can be made to the following account 12 3027 0422012 00
---
UPCOMING PROGRAMME
Dates: Monday 2nd - Friday 6th October
PRICE: Members $145 Mon members $155 Casual day $35
TIME: 9-12noon
Dates: Monday 9th - Friday 13th July
PRICE: Members $145 Mon members $155 Casual day $35
TIME: 9am -12noon
---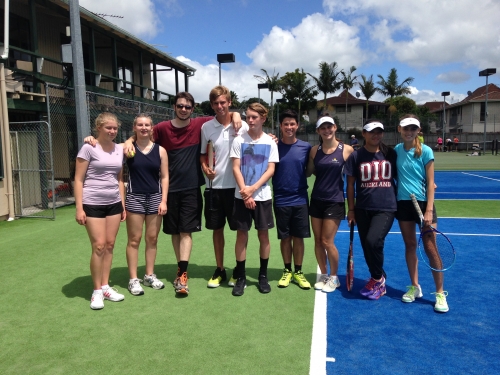 The Coaching Team Summer 2015